What is Haramaya University doing to create a drought-resilient community in Eastern Ethiopia?
Drip irrigation is one of the strategies draught-resilient societies apply to resist draught. Taking this into account, Haramaya University supported model farmers with drip irrigation technologies in four rural kebeles.

According to Ato Dine Reshid, Technical Coordinator of Integrated Haramaya Lake Watershed Development Project (IHLWDP), the Integrated Lake Haramaya Watershed Development (ILHWD) Office has been coordinating various climate-smart soil and water conservation activities in Lake Haramaya watershed, including terracing, building gabion structures and sediment retaining walls at upstream, middle, and downstream respectively, as well as supporting with the planting of various forest seedlings in hilly upstream areas to restore the watershed's degraded natural resources.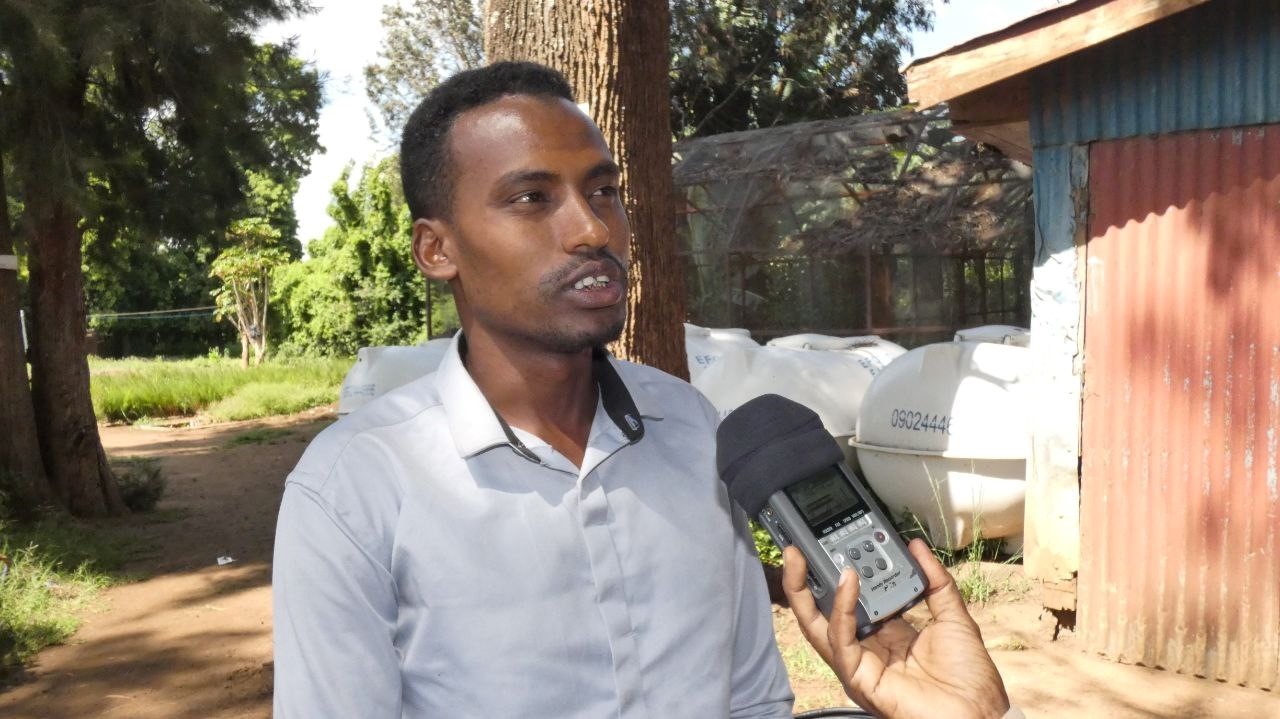 In addition to the aforementioned measures to conserve natural resources, the Office helped smallholder farmers in the watershed adopt a variety of climate smart agriculture technologies, merging conservation practices with activities aimed at enhancing smallholders' quality of life.
Based on its annual planned activities, the ILHWD Office provided equipment for drip irrigation technologies (rottos and drip irrigation kits) worth about two hundred thousand (200,000) Birr to five clusters farmers (five farmers per cluster, a total of 25 model farmers) from four rural kebeles, namely Damota, Tinike, Kurro, and Tuji Gebisa .
Ato Dine said that this location has the potential to be used for mining subsurface water and irrigating khat and horticulture growing in eastern Ethiopia, so this support was given with the goal of promoting and supporting the use of such technologies in the Lake Haramaya Watershed, he added.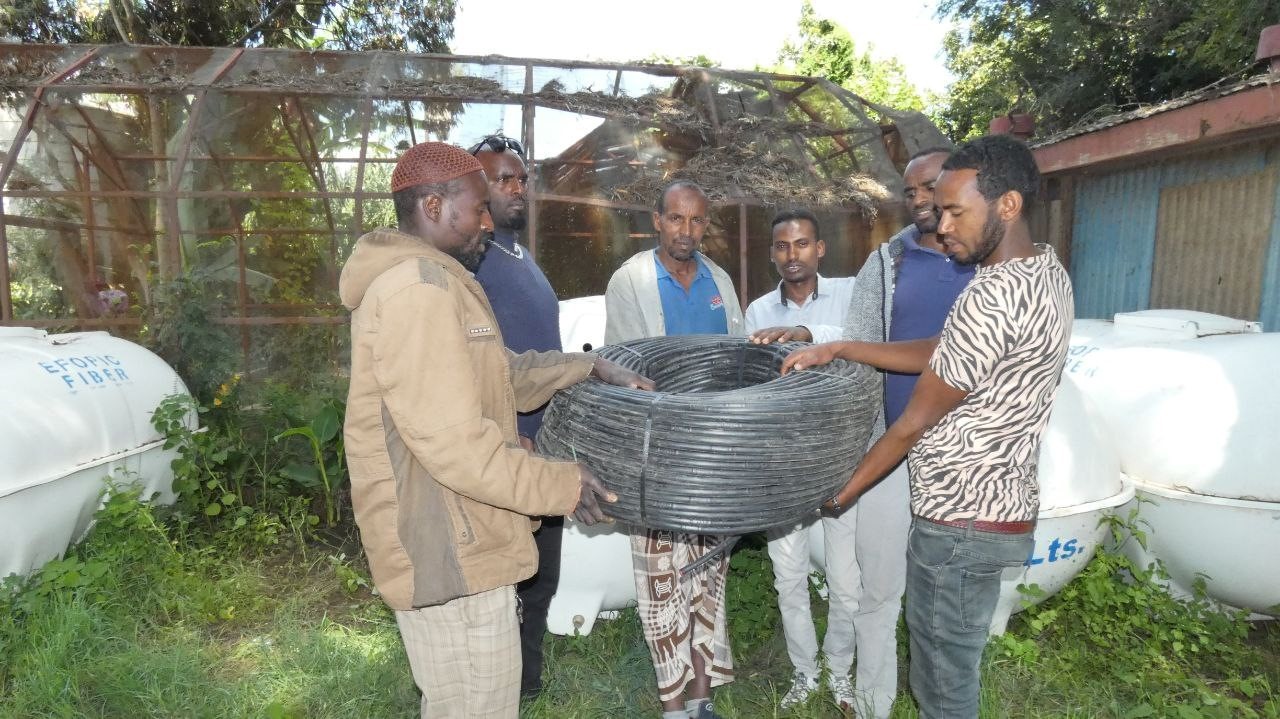 It was indicated that using this technology in the Lake Haramaya Watershed has two benefits: on one hand, it preserves subsurface water. On the other hand, it helps Lake Haramaya remain sustainable Compared to traditional irrigation techniques; this technology lessens the detachment and removal of top soil from agricultural uplands. As a result, it reduces soil erosion from upstream areas and sediment deposition along lake coasts by flooding, both of which help to maintain the lake's sustainability.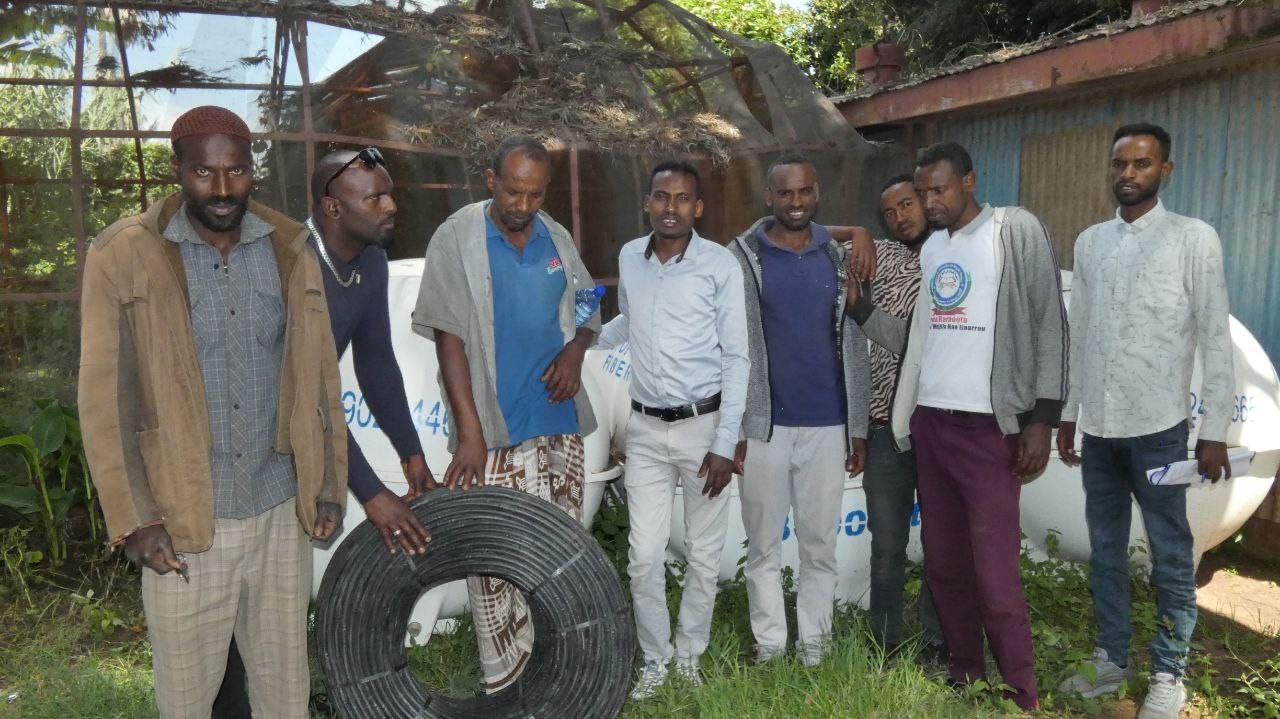 several similar activities that can solve the problems of the community.
Noting that Haramaya University has become deeply involved in the community in recent years, working to solve community problems, Mr. Jemal Mohammed, team leader of Haramaya Woreda Irrigation Agronomy Department, stated that the support provided to these model farmers by HU's ILHWD Office was quite significant. He explained that the globe is currently affected by climate change, and Ethiopia is one of the countries severely affected by drought. Thus, it is conceivable to use this technology to lessen the negative effects of climate change on smallholder farmers' lives. He added that more than a hectare of land may be irrigated with just one drip irrigation system, reducing water waste.
The model farmers, in their turn, appreciated what Haramaya University is doing for the community. For instance, Ato Remedan Musa, one of the model farmers who received support, said that he had been trained in drip irrigation technology and rainwater harvesting by the Integrated Lake Haramaya Watershed Development Office and that he had been encouraged to harvest rainwater during the rainy season and use it for irrigating horticulture and homestead agroforestry to conserve precious underground water.
"I've been working hard since I got this drip irrigation equipment to collect rainwater during the rainy season and use it for irrigation," Ato Remedan added.
By:- Shemsedin Mohammed
Photographer:- Tewodros Lishan
PUBLIC & INTERNATIONAL RELATIONS DIRECTORATE