Incubator Startup Graduation and Exhibition event for Students and Local Youth Groups held at Haramaya University
Haramaya University (HU) held its first-ever incubator start-up graduation ceremony and facilitated showcase spaces for university graduates and members of local youth groups from September 13-14, 2022 at the Agricultural and Rural Incubation (ARIHUB) facility. The project was run with financial and technical support secured from The Regional Universities Forum for Capacity Building in Agriculture (RUFORUM), the MASTERCARD foundation and Haramaya University.
The program was an integral component of the "Agri-business Incubation Development and Mentorship Program" organized by the Agricultural and Rural Innovation Incubation Hub of Haramaya University. The event is a crucial component of a two-year project named "Strengthening Entrepreneurial Capacity through Agricultural and Rural Innovation Incubation Hub (ARIHUB)" at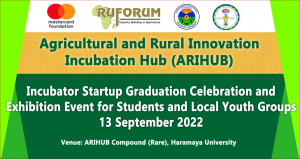 Haramaya University, which was supported by the MASTERCARD foundation under RUFORUM's Agricultural Enterprises Challenge Program (RECAP). The Incubation Challenge Grant Award and Pre-Incubation Launching Workshop were held for graduates and members of local youth groups 6 months ago.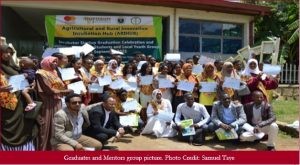 Today's event has been arranged to mark successful graduation and create an exhibition space for the first cohort of incubatees constituting graduates and members of the local youth group. The cohort was constituted of over 50 members and included 9 enterprises. Over 50% of the graduates are female candidates. The candidates passed through a-9-week intensive mentorship program in which senior and highly experienced business and technical mentors participated. The mentorship program was arranged in a way that allows the incubatees to grasp the theoretical and practical essence of agripreneurship. The program generally attempted to provide the incubatees with in-depth insights on entrepreneurial mindset; problem validation; value creation; value delivery; business management; business canvas and development of product flowchart; development and validation of minimum value products. Overall, the incubatees had taken a total of 46 contact hours (21 for theory and 25 for practice/lab work and fieldwork).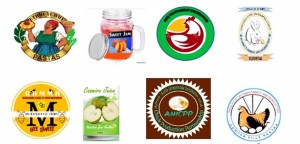 The graduation and showcasing event was begun with an opening speech by Professor Jeylan Woliye, the Vice-president for Administration and Student Affairs of Haramaya University. In his speech, Professor Jeylan warmly welcomed the participants and congratulated the graduates for their achievements and for reaching the eventful day of graduation. In addition, he addressed the audience that the purpose of today's gathering was not only to celebrate the graduation of 9 successful incubators, but also for setting an ideal condition for incubatees to showcase their products, facilitating an interactive and collaborative space for sharing knowledge and vision, and providing the incubatees the opportunities to practice and explore ways of selling entrepreneurial ideas and building business networks. He also underscored the vital role of the incubation-based learning model in promoting youth innovativeness, cultivating empowerment, addressing unemployment, and tackling poverty. Last but not least, Professor Jeylan highlighted the fact that agripreneurship does not occur in a vacuum. In connection to this, he accentuated that responsible government and non-government organizations must support these agripreneurs in the making by providing them access to spaces, unlocking finance for them and establishing for them reliable market linkages and support networks.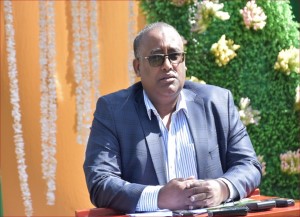 Dr. Getachew Shambel, the PI of the project and incubation lead, also offered useful background information about the project and the unique features of the event. According to him, the event was considered unique due to the following reasons. First and foremost, the incubation model of the agripreneurship and mentorship program is the first of its kind in the history of Haramaya University. Secondly, the ARIHUB is a strategic departure from the conventional entrepreneurship training model since it attempts to integrate entrepreneurship training with innovation incubation and Multi-Stakeholder Innovation Platforms (MSIPs). Thirdly, university graduates and members of the local youth group were given an experimental loan to develop a marketable prototype or Minimum Value Product (MVP) and the opportunity to test and validate their products by taking into consideration local contexts that affect the marketability and acceptability of their products and, by implication, the sustainability of agripreneurship as an entrepreneurial venture.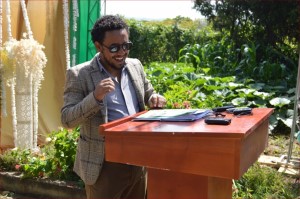 The graduation and exhibition events were organized for two consecutive days. The first day was dedicated to the formal graduation ceremony and exhibition of showcase products whereas the second day was devoted to evaluating the entire program and for offering the way forward. The occasion created a suitable environment for the graduates to demonstrate their products to the public. The showcased products include Ethio-Yummi pasta production and marketing; Casimiroa juice production and marketing; sweet potato jam production and marketing (sweet Jam); Homemade incubator development and day-old chick production; Poultry production and Marketing (Layers chicken); Honey bee farm production and marketing; Weme chicken; Rearing poultry (Broiler birds); and Rabbit farming and marketing.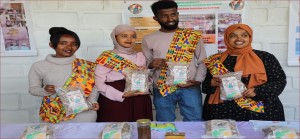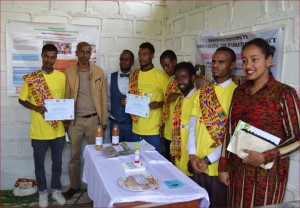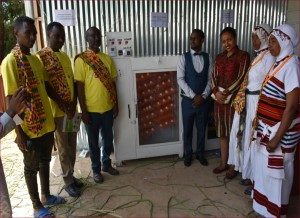 The event was concluded with a closing remark by the University's Vice-president for Research Affairs, Dr. Tesfaye Lemma. Like Professor Jeylan, Dr. Tesfaye also congratulated the graduates and strongly advised them to pursue their dreams with patience, resolute determination and a greater sense of accomplishment. He also expressed his hope that today's incubatees may become owners of multi-million companies and future potential sources of income for Haramaya University which create an ideal training environment to cultivate their entrepreneurial mindset and imagination and to help unlock their untapped entrepreneurial talents. Before he finalized his speech, Dr. Tesfaye strongly stressed the importance of incubation-based training for promoting youth self-employment in the country and stated his office's firm commitment to supporting the incubation hub and mentorship programs.