Haramaya University (HU) Graduates 8479 Students
Haramaya University has graduated 8479 students in different fields of studies on July 8, 2017 in a colorful ceremony held at the university's Afren kello hall in the morning and afternoon shifts in the presence of distinguished guests and families of the graduates. Among the total graduates, 29 of them were PhD graduates, 668 were Masters, 736 in Postgraduate Diploma and 7046 in First degree. Of the total graduates 2700(27 %) of them were female students.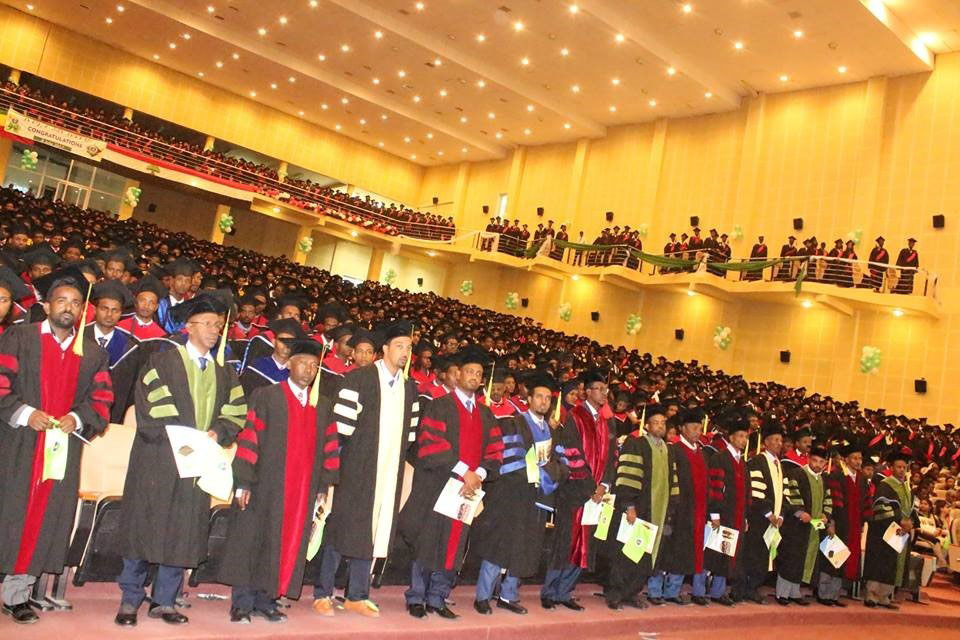 Prof. Nigussie Dechassa, Vice President for Academic Affairs of the university, while addressing an opening remark, has welcomed the invited guests and families of the graduates. Pro.Nigussie has also expressed his best wishes to the graduating students.
President of Haramaya University, Prof. Chemeda Finnisa, has congratulated the graduates on their landmark achievements. He has also congratulated parents, teachers and families of the graduates for being able to see their students/ children achievements.
Prof. Chemeda has also made a comprehensive speech about the university's academic, research and community service activities performed in the 2016/17 academic year.
Calling up on graduates he said, "As educated citizens, you are expected to make greater contributions to the efforts being made to create a prosperous Ethiopia. You are expected to serve the nation with a high sense of commitment and professionalism."
In his last speech, Prof. Chemeda has thanked supporters and friends of the University Keen Efforts and contributions they have made during the academic year.
Speaking on the occasion and the guest of honor of the event, President of the Oromia National Regional State, Mr Lemma Megersa, has congratulated the graduates for their successful achievements. Mr Lemma said, "Education is a key to achieve the aspiration for the development of the country. Today we are seeing the role of education in realizing and fastening radical changes in the country."
In his speech, Mr Lemma appreciated the contribution of HU in the overall development of the country by producing skilled manpower in different fields of studies working in different organizations as scientists, academicians and researchers. He emphasized also the role of the university in the enhancement of the overall development of the country in the agriculture sector.

During the ceremony, Deans of colleges presented the graduates in their respective colleges and high scorer students from each departments have received awards from the guest of honors of the ceremony, Mr Lemma Megersa, President of the Oromia National regional State and Mr Sileshi Getahun, Deputy Vice –President of Oromia National Regional State and Head of Bureau of Agriculture and Natural Resources, and chairperson of Haramaya University Board
Leave a Reply